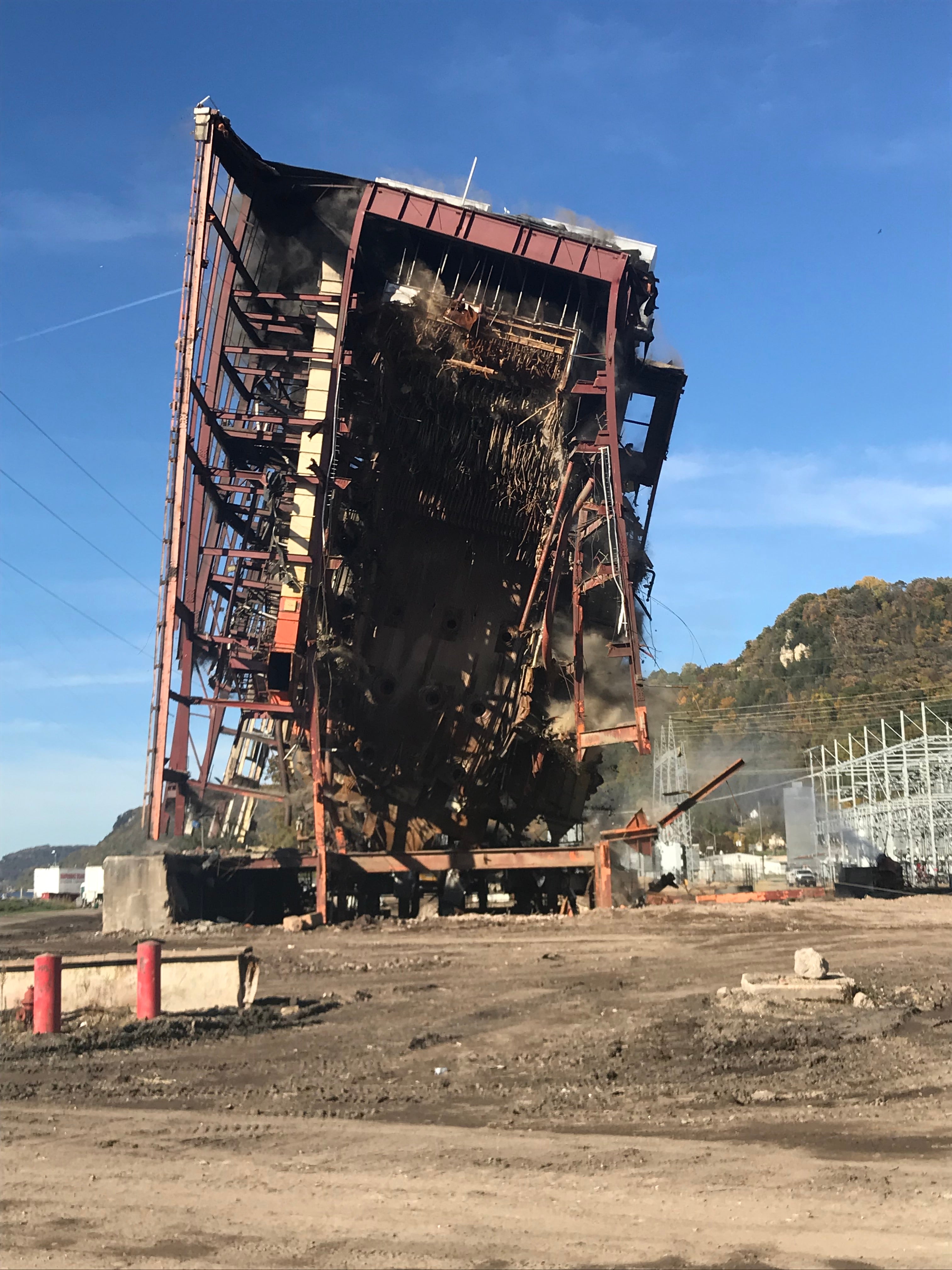 In 2017, Dairyland's Generation Engineering group oversaw the permanent removal of smaller outbuildings and conveyors, as well as the removal of underground coal tunnels, sealing of the cooling water intake structure and the removal of regulated materials. The last remaining section of Dairyland's main Alma Station building was brought down on Oct. 17, 2017. Prior to the "tipping" of the building, columns were strategically cut to ensure a safe and designed collapse. The structural columns on the east side were triple cut and cables were attached. The center support columns were partially cut on the west side of the columns. The west support columns were the last to be cut just prior to tipping.  
"When the cables on the east side were pulled, the support columns kicked out and the structure safely collapsed to the ground," said Mike McCullick, Project Engineer III. 
 A time-lapse video was created during the demolition of the Alma Station (June - December 2017).
Following the demolition, the contractor began cutting and sorting the steel. The demolition materials and construction debris were salvaged or recycled to the greatest extent possible: Metals were sorted by size and type for recycling, while unpainted concrete and bricks were left onsite to be crushed into gravel for use on future Dairyland projects. 
The morning of Oct. 1, 2018, demolition crews successfully - and safely - brought down the 700-foot-tall emission stack from the original Alma Stations 1-5. Elevate Media Group (La Crosse, Wis.) was onsite to capture the historical moment. 
A compilation video of the Alma Stack demolition
The retired Alma Station came online in 1947 and helped power the region for decades. The first three units of the power plant ceased operations in 2011. Dairyland retired the final two units in 2014.
Dairyland's 387 MW John P. Madgett power plant is also located on the Alma Site. It remains in full operation as a safe, sustainable and reliable source of electricity for homes and businesses.