Questions regarding Dairyland's Avian Protection Plan can be directed to Brad Foss, Manager, Environmental Impact 
Dairyland's Avian Protection Plan was developed to help reduce risks to bird species that can result from electrocutions and collision with transmission structures and lines. Through development and implementation of the Avian Protection Plan, we will benefit through:
Regulatory compliance
Reliability improvements
Conservation of avian species
Dairyland took an innovative approach developing the Avian Protection Plan in identifying areas of potential collision risk by identifying the location of transmission lines in relation to wetlands or water bodies that could serve as habitat for migratory birds. Identifying areas where bird use is likely higher than the surrounding landscape helps prioritize sections of transmission line that should be evaluated to determine where measures to reduce collision will be implemented. 
Dairyland has developed an Avian Reporting System used to collect data about fatalities and injuries. This data is used to identify areas where measures can be implemented to prevent additional fatalities and injuries.
---
Why do Transmission Lines Pose a Risk to Birds?
Transmission lines primarily cause two types of risk to birds: collision and electrocution. Both can result in injury or mortality.
Collision
Collisions are most likely to occur in areas where transmission lines cross water bodies and wetlands, or occur between reeding and roosting areas, and therefore could affect a variety of wading birds, water birds and waterfowl moving through the area. Common species in the region that could be affected by collision include sandhill crane, American white pelican, Canada goose, mallard, northern pintail, gadwall and great blue heron.
Electrocution
Electrocutions are most likely to occur in areas where transmission line configuration creates the potential for birds to complete a circuit by touching energized portions of the structure; typically when they are perching or nesting. Electrocution risk primarily impacts a different suite of species than collisions, such as eagles, hawks and large owls. Common species in the region that could be affected by electrocution include osprey, bald eagle, red-shouldered hawk, broad-winged hawk, red-tailed hawk, bald eagle, great horned owl and barred owl. It is challenging to predict where electrocutions are likely to occur; however, areas where transmission structures are the primary perches may have a higher likelihood of electrocution.
---
Collision and Electrocution Reduction Measures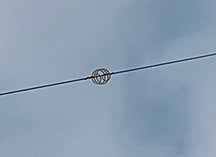 To reduce collision, Dairyland follows directives from state and federal regulatory agencies to determine where transmission lines should be marked with bird diverters. Bird diverters are installed by a specialized crew via helicopter. There are three main types of line-marking devices: 
Aerial marker spheres
Spirals
Suspended devices
To reduce electrocutions, Dairyland inspects transmission lines for nests and signs of perching as part of regular maintenance activities (left photo). In areas where this is prevalent, and when constructing new transmission lines, Dairyland evaluates the structure type and line configuration for electrocution risk. If appropriate, nesting platforms are installed (right photo) and habitat management conducted in areas where birds are nesting and perching on structures.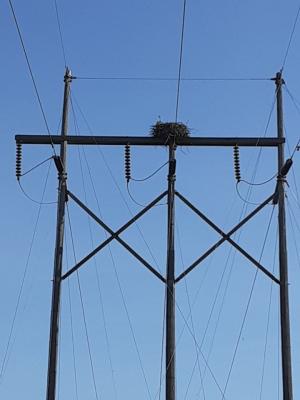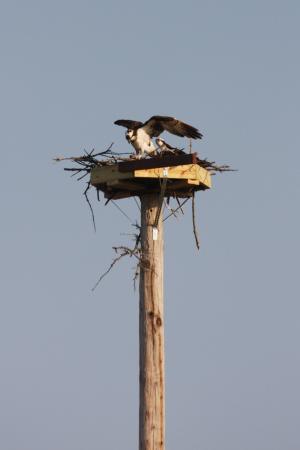 Learn More
Since 1994, Dairyland has managed its own Peregrine Falcon Restoration Program in collaboration with the Raptor Resource Project.