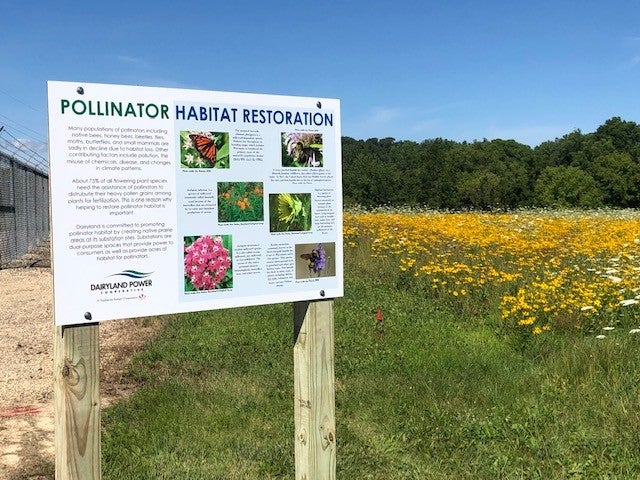 Today, Dairyland is also creating dual-purpose spaces at solar array and substation sites. Through the end of 2018, there were 18 solar array sites within Dairyland's four-state service territory with 25 megawatts (MW) of generation capacity. Not only are those sites estimated to power nearly 4,000 consumer-member homes, but they will also be home to about 250 acres of new pollinator habitat. By contracting with Prairie Restorations, Inc., the solar array sites were seeded with native seed mixes of grasses and flowering forbs to create certified pollinator gardens. In addition to helping sustain and grow bee and butterfly populations, the pollinator gardens will help reduce storm water runoff, increasing site protection from erosion.  
Within the Dairyland Power system, there are 300 substations. Adjacent to each structure, Dairyland typically purchases additional property as a site buffer. In 2017, Dairyland employees started investigating potential sites to develop additional one- to two-acre pollinator meadows. Not only do the sites provide beneficial habitat for pollinators, but also create public green space near residential developments to encourage healthy lifestyles and pollinator awareness. 
Annually, Dairyland Power recognizes Pollinator Week in June. The Electric Power Research Institute (EPRI) hosts a week-long Pollinator Party to celebrate the week. Check out this video that shows how Dairyland supports pollinator habitat.
Did you know the following items are a few among many that exist thanks to pollinators?
| | | |
| --- | --- | --- |
| Almonds | Apples | Avocados |
| Alfalfa | Beets | Cashews |
| Chocolate | Coffee | Cotton |
| Dairy | Flax | Honey |
| Mustard | Peppers | Vanilla |
| Walnuts | Watermelons | Wax |
| Wine |   |   |